Shopping Cart
Your Cart is Empty
There was an error with PayPal
Click here to try again
Thank you for your business!
You should be receiving an order confirmation from Paypal shortly.
Exit Shopping Cart
| | |
| --- | --- |
| Posted on June 3, 2014 at 2:35 PM | |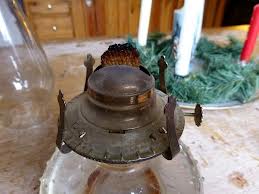 Anyone who has ever used an oil lamp knows about trimming the wicks.
Why do we trim the wicks?

 We Trim wicks to improve oil lamp performance.
You probaly realize where I am going with this.:)
Ultimately we are only responsible for keeping our own spiritual wicks trimmed.But the love we have for others drives us to minister to others so that they can prepare as well for the Bridegroom.

 Oil lamps burn olive oil or highly refined lamp oil, carried by a wick from a reservoir. The oil vaporizes above the wick, charring it. When a ragged wick burns, it produces a greasy smoke known as sooting. When lamps begin sooting, their globes must be cleaned and their wicks trimmed.
There are times in our lives we must see that our light doesn't shine as brightly--things of this world cares and tribulations from others can cause our wicks to smolder with soot and darken.
In all the times of aggravation, consternation and head shaking of being a servant of God, a loving wife, a joyful mother, a spiritual leader to other women, young and old, there are times when I have just laid on my bed and cried feeling helpless and discouraged that I just couldn't measure up to the expectations of all these people!(I am sure you have been there too) I have felt so small and inconsequential as I reached out to people with encouragement, assistance and a smile knowing that my little bit of help was not really going to make a big difference in their lives.(wrong!)
When I was in my twenties I really thought my words had weight but as I grew older I found that most people went ahead and did what they were planning to do despite my opinion even when they had asked for it.(Even when others tell you please correct me when I do wrong) People often resisted asking my opinion as I grew into my thirties even today(because I would share what Gods word says) because I was the pastor's wife and I would give them the answer they already knew was in the Bible, the answer they did not want to hear. It still breaks my heart when I  see the consequence of their actions which could have been avoided if they had only listened to the wisdom of the Bible.
 I think a lot of it is simply a new level of wisdom which God has graciously imparted. I maintain my high moral standard for myself.
I try not to judge others (a difficult thing) but seek to give all people the benefit of the doubt. As Paul said, "There, but for the grace of God, go I". The words of scripture help me straighten the path of  myself and I let God be the guide for the others. I try to speak the truth in love and let the Holy Spirit be the conscience pricker. My job is  to keep watch over my tongue, my household, and my own responsibilities. I cannot solve all the world's problems but I can make a difference in a few lives that will make a difference in another generation to come. Some of our work will never be seen until another generation or two goes by and of course, our name may not even be associated with that work. But the Lord is faithful to remember our labor of love for His name's sake.
If you are a woman feeling the pressure of trying to please too many people, the congregation,  your own family, try backing off for a while and taking a deep breath of Jesus' grace. When the woman caught in adultery was brought before Him He diverted everyone's attention from her trembling body to what He was doing, writing on the ground. He knew she couldn't stand the pressure, the stares, the accusations, the finger-pointing. He gently reoriented the crowd of accusers to look at their own lives, not hers and seek forgiveness for their own sins leaving the woman to deal with hers directly with God. Jesus didn't abandon her, though. He gently told her that He didn't condemn her, (she was forgiven) and to go and sin no more. Wow! She got another chance! I hope   we can all talk to her in heaven to find out how her life turned around. She probably had to move to another town to get away from the wagging tongues but at least she could start over again. That is the grace of God.
When the pressure is on, stop, breathe deeply, and consider who you really are trying to please. The major person you need to please is Jesus Christ and next to Him is your own husband (or future husband if you are not married). We must minister the Gospel just as it isno matter what others may do or say-  Now, if you can juggle the desires of all  people you are doing great!
Be wise and careful about all your other commitments.Walk in your calling not someone elses~ Do the will of God by setting a good example to the rest of the world, showing love and kindness, but keep your eyes on Jesus. He's the one who will be your real judge, not others. Set your priorities and don't get side-tracked by inconsiderate comments or post or some ill-informed person may make from sowers of discord.
Begin preparation~ Trim your wicks~ keep full of the oil ~ and know that one day soon you will meet the bridegroom and the marraige feast will be beyond what you could ever imagine!

Categories: None
/