Shopping Cart
Your Cart is Empty
There was an error with PayPal
Click here to try again
Thank you for your business!
You should be receiving an order confirmation from Paypal shortly.
Exit Shopping Cart
| | |
| --- | --- |
| Posted on October 29, 2014 at 7:15 AM | |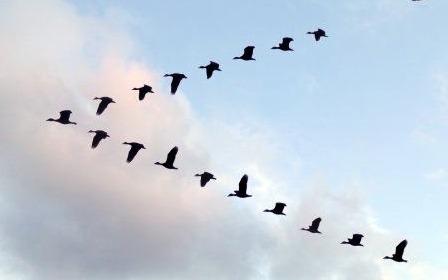 The other night, I was standing out on the patio, and I heard ducks from a distance, but could not see them. I waited and watched in the direction of their call, and after a couple of minutes, I noticed a fantastic sight. There were three different V-formations of them, totaling maybe sixty or seventy birds. It was dusk, and they were headed in the direction of the slipping sun. It's funny how many times - when we are tired and - something like that from nature will appear, to distract us and also to remind me of God's glorious wonder.
As I watched the ducks flying toward the closing moments of the day's sunshine, I was reminded of the fact they have no fear of reaching their goal. They instinctually know exactly the last moment possible, to leave and make it to their destination. How I wish we could all more often be that - fearless!!! While on our daily journey, many sometimes find it difficult to consciously realize the fact that God's got it all in control. After coming to know Him, we intellectually, almost instinctually, realize that our future is assured by his promises. Yet we can be distracted by some of the hurdles we figuratively jump along the way.. So take it from the ducks: Keep moving toward the light, knowing that as long as you're in Him and His will, it's going to be fine!
"Then spake Jesus again unto them, saying, I am the light of the world: he that followeth Me shall not walk in the darkness, but shall have the light of life." (John 8:12, KJV)
Categories: None
/